Entertainment Review – Edward Scissorhands
Edward Scissorhands is a charming amalgamation of the most dazzling facets of filmmaking into one seemingly odd yet meaningful narrative (and yes – I am biased).
I first encountered this 1990 film in fourth grade – and I didn't think much of it despite having an admiration for the film's obvious eccentricities. About a week ago, I made the decision to return to this film, remembering the brief fondness I had for it. I would soon discover that this film is a tiny flake of gold in the vast body of water that is movie industry.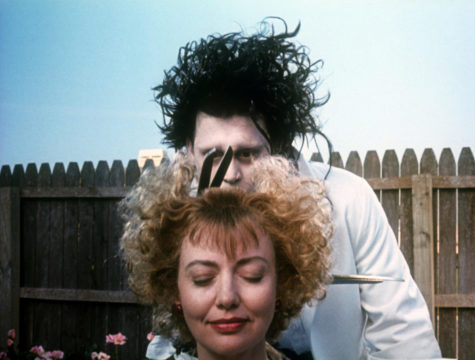 The films centers on the narrative of a man named Edward – who was created the laboratory by a 'brilliant' inventor. As the name of the film implies, the inventor gave Edward scissors for hands in the early stages of his life (As we all know, babies come out of the womb with scissors for hands . . ..), and the inventor was unable to change this decision as he died before he was able to give Edward hands. After living alone for a while, an Avon sales lady barges into Edward's castle, and after a brief interaction with the lonely Edward, decides to take him into his home. The remainder of the film is about the trials and tribulations of having Edward adjust to 'ordinary' life.
Though the premise of the movie might seem rather odd, it was executed perfectly. The stylistic and design choices made in the film are incredible – from everything like the monochromatic houses to the unconventional hairstyles. There is such great contrast between the bright, happy exterior of the town and the dark, judgemental interior of the people who reside there. On that same note of exteriors not matching interiors, Edward is intimidating and indicative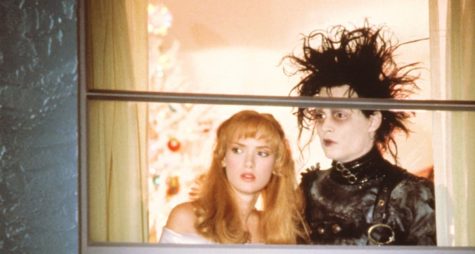 of the 'rough appearing' villain – this appearance not matching his rather gentle and sweet demeanor. These styles in culmination with scenes (which I will not mention for the sake of not spoiling the movie) do a fantastic job at incorporating the message of 'don't judge a book by its cover.' Who doesn't love a film that's simultaneously unique and sentimental?
As I have thoroughly explained above, I absolutely loved this film. My verdict on the rating of this film is five Avon ladies out of five – and I'm sure no one saw that coming . . .. If you enjoy films that are a mix of comedy and drama, I would encourage you to visit (or revisit) this film. If you do not enjoy films that are outlandish for the sake of being outlandish (We should be honest: this film is quirky and it is well aware of it.), I would encourage you to not only stay away from this film, but to steer clear of the vast majority of Tim Burton's discography. If I could stay and chat with you more about this film, I would, but it seems I have created a man who has spoons for fingers, and it might not be wise of me to leave him with these silverware appendages for much longer.