The Legacy Girls Swam Like Assasins During League Finals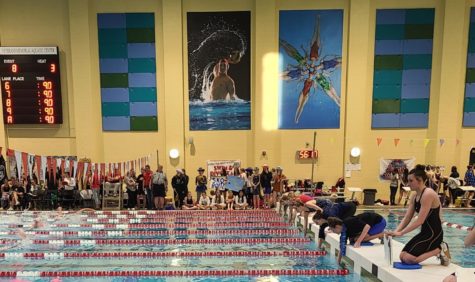 On Saturday, February 4th, the Legacy Girls Swim Team once again proved that they are a force to be reckoned with after accomplishing back-to-back Front League Championships. Each and every one of the swimmers came in with heart and courage and came out victorious, going "out with a bang" as senior Sabrina Rachjaibun put it when asked about her races that day. With each clean and precise swipe of the water, each girl gave it their all, kicking fiercely and pressing against the wall to achieve a strong finish every time. The Legacy girls started off powerfully with a 1:46.20 200 free relay which pushed Relay A(Abbie Kehmeier, Isabella Forsman, Allison Xin, and Jolie Nguyen) first to place. Along with Rachjaibun's 1:50.10 200 free, the swimmers who returned for finals had put forth strong efforts; most notably, Isabella Forsman achieved a 2:06.60 in her 200 IM and Abbie Kehmeier won overall with her 56.58 second 100 Back. Through the team's dedication, commitment, and never-ending support for each other, they could put forth some fierce swimming that led to winning the Leagues. 
Coach Leigh Dodd has been coaching the Legacy Girls Swim Team for the past 3 years and always looks forward to how the team's commitment has always shone through in their capability of "being athletes". Not only because they were "doing the work, every week, every day, every set" and simply showing up, but also being "an amazing human beings". Along the stands, the Legacy Girls had shown their love and support, cheering for every one of their teammates, waving their signs, and shouting in excitement right when their teammates made it to the end of their race. 
  It truly showcases the daily strong bond that Dodd sees and how the team gets everyone "fired up" as Rachjaibun had put it.  "Not only are we getting a great environment" but also "pumping each other up". 
Coach Leigh does not want to see that strength go away next season but would like to bring as "many new swimmers into the fold" and continue to build a "family" that shows that they are a mighty force built around a genuine connection. Coach Leigh hopes to bring that back for seasons to come. 
With the swim season ending, Coach Dodd is excited to see the Legacy Swim Team come back stronger, expanding "League qualifiers and defending our spots in Leagues and at State". It will be exciting to see how the team will flourish again and rise to the challenge next season!