Going Swimmingly
Student Shoutout – Sydney Bales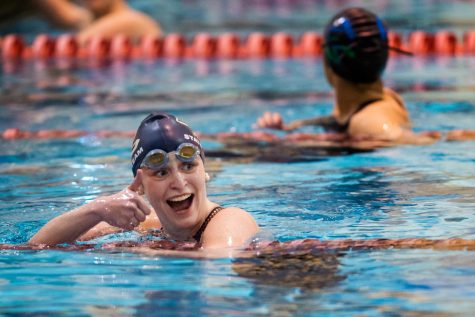 Football, tennis, baseball, soccer. When you think of Legacy's sports teams, one of these will probably be first to come to mind. But these aren't the only teams our high school has to offer. It's time to shine the spotlight on another team – and one of their key players.
Sydney Bales, a senior here at Legacy, has been swimming competitively since she was about five. And now, thirteen years later, she played an important role in lifting her team to 5th place. We reached out to ask her about swimming, the team, and her accomplishment.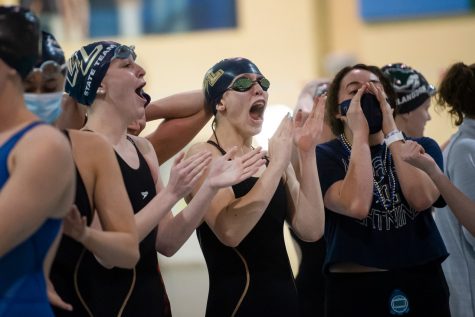 "I believe that every obstacle I have worked through, every hard practice and bad meet, was there to help me bring me to who I am today." – Sydney Bales, 12th Grade
For those of you that weren't aware, Bales placed first in the 100 yard backstroke – earning her the title of state champion in that event. So what would that feel like? Swimming the length of a football field cannot be simple, right?
"The race actually felt super easy to get through, and it wasn't as hard as I anticipated," Bales stated in our interview. "When I touched the wall, I looked over at my coaches and they were jumping up and down, so I got the hint that I won." Bales wasn't the only one to get high marks. "I was even more excited because my teammate, Abbie Kehmeier, placed third in the heat, so we both were on the podium. It was surreal in the moment, and I was just really happy I was able to score so many points for my team."
Unsurprisingly, being this great at swimming doesn't come naturally. "For club swimming, I practice nine times a week year round," she says, "with three morning practices. For high school swimming, I go to those practices at least twice a week in addition to the club practices I am already attending."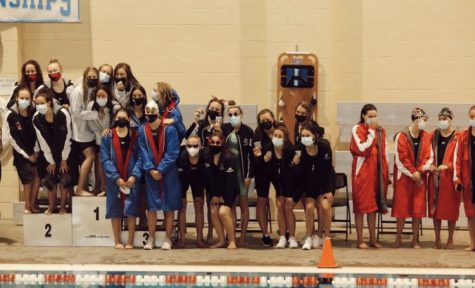 "The team atmosphere is unlike anything else. I love being a part of something that is bigger than myself, and Legacy's team gives me that because you're doing things for the team, not for yourself. Everyone gets along really well, and it's just a big family." – Sydney Bales, 12th Grade
It's clear that she loves the sport as well as her team. "I like the team aspect and being able to do a sport that I love with my best friends," she says. When asked if there was anything she would change, Bales responded: "Not a thing. I believe that every obstacle I have worked through, every hard practice and bad meet, was there to help me bring me to who I am today. Legacy's swim team has been nothing short of an amazing experience, and I would do it time and time again."
So what's the main difference – aside from the water – between swimming and other sports at Legacy? There's rarely a student section. "While our swim team is one of the strongest sports at Legacy, we never have a student section. Parents come and cheer, but it's not comparable to any other sporting event, which is really sad. However, at state and leagues, the stands at VMAC are packed with parents and some students – mostly swimmers – from teams from all over the state." She continues, saying that it would be "nice to have a student section like other events at Legacy". So, if one of your friends or classmates has a swim meet, grab some pals and go support these talented people!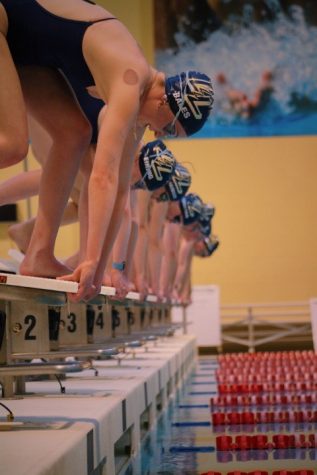 "It would be really great for Legacy's swim team to get more publicity and have a student section! Meets are fun, and we have a really good team! We placed 5th at State last year, and it's only looking up." – Sydney Bales, 12th Grade
Finally, Bales had some advice for people looking to get into swimming competitively, but not knowing where to start. "Don't be scared to try something new, and be open to learning new things. If you have never swam before, it can be difficult, but once you get the hang of it, it's a great workout and so much fun! Ask for help and do it with a friend."
So where can you find events? By going to legacyco.rschoolteams.com/page/2944, you can find dates, times, locations, and lots of other helpful information that can help you support the team. Just remember, showing good sportsmanship is as important as ever! If you go, be sure to follow all rules and guidelines set for spectators at the meets.
Congratulations to Sydney Bales and the rest of Legacy High School's girls' swim team!
[All pictures provided by Sydney Bales]