13 Reasons Why TV Show Review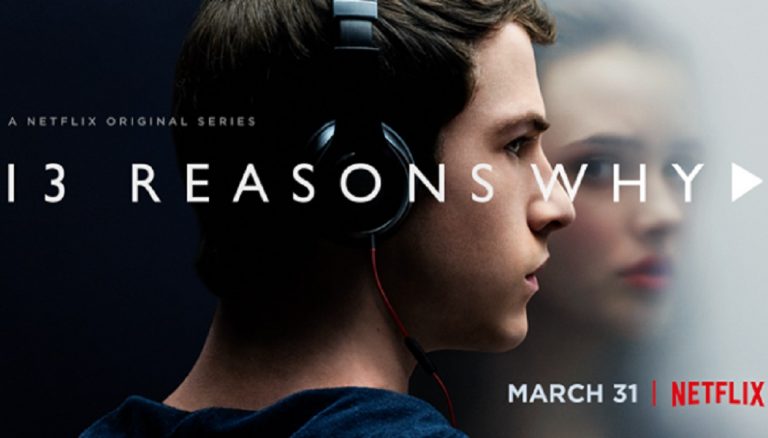 Saba Fakhimalizad
November 9, 2018
13 Reasons Why, based on the 2007 best-selling book by Jay Asher, is an American teen drama series featured on Netflix. The series revolves around high school student, Clay Jensen (played by Dylan Minnette) who is depicted as a good guy with an introverted personality, and his deceased classmate Hannah Baker (played by Katherine Langford), who tragically committed suicide after dealing with a culture of gossip, sexual assault, and a lack of support from and at school. Two weeks after Hannah's death, Clay discovers a mysterious box on his porch. Inside the box is  a group of cassette tapes recorded by Hannah in the lead up to her suicide. The tapes were originally sent to one classmate with instructions to pass them from one student to another, in the style of a chain letter. On the tapes, Hannah details to thirteen people how they lead her to commit suicide. If Clay decides to listen to the tapes, he will discover if and how he made the list.
This perplexed and heart-wrenching story of pain and suffering is a beautiful and accurate representation of what is unfortunately true for far too many young people, especially women. I think many young people could learn from the discomfort and pain presented in 13 Reasons Why. It reminds people that suicide can be prevented through attention and treatment. In order to change the way we as society approach problems like mental health and sexual assault, continuous discussion and willingness are essential.
Despite its powerful message, the Netflix  series has added trigger warning to episodes that contain graphic or disturbing content, as well as brief videos with cast members stating that kids under 16 (without parental guidance) or someone who is already struggling with depression and other mental health issues may not want to watch the show.
Works Cited
"Thirteen Reasons Why." Barnes & Noble,  www.barnesandnoble.com/w/thirteen-reasons-why-jay-asher/1008421039
Vel, Bhavana. "13 Reasons Why: Is It Worth Watching?" Youth Are Awesome, 17  Apr. 2017, www.youthareawesome.com/13-reasons-why-worth-watching/.