Breath of Winter
Featuring Snow, Lights, and a Cat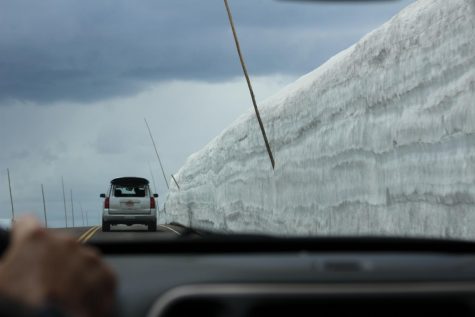 "Mountain Road"—ten feet of snow borders a road in Rocky Mountain National Park as cars drive by.
Quite surprisingly, this photo was taken in June. Even in summer, our mountains have snow on them… sometimes ten feet of it. I shot this photo because of the sheer wonder and awe I felt when I saw these ten foot snowbanks. I've never seen that much snow in my life.
The snow also made me curious. How in the world were snow plows able to clear the road? If you don't know, the poles sticking out of the snow are markers for plows so they know where the road is. Still, given that amount of snow: how? As far as the rest of this photo, I included the hand on the steering wheel to emphasize that it was a intimidating ride—a white-knuckled ride, if I ever saw one.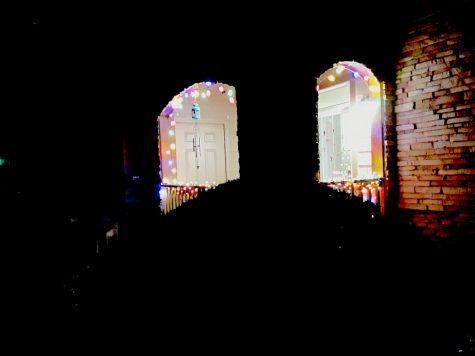 "Gentle Night Lights"—an array of holidays lights are strung on an apartment balcony of the Village at Legacy Ridge.
What urged me to take this photo was not the pretty lights themselves strung along the rails and balcony roof. This photo was taken because of contrast. The lights are a colorful beacon compared to the darkness of ten o'clock at night. I thought the contrast made the lights seem brighter and more beautiful. The wind chime also creates a home-y, approachable feel. Really, I thought the blazing light was magnificent, so I took a picture.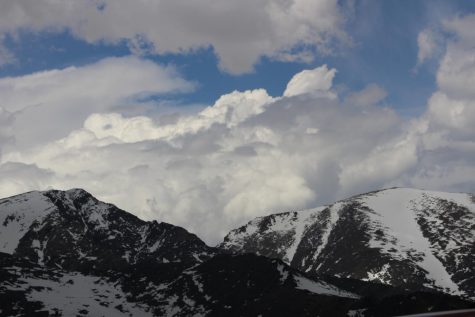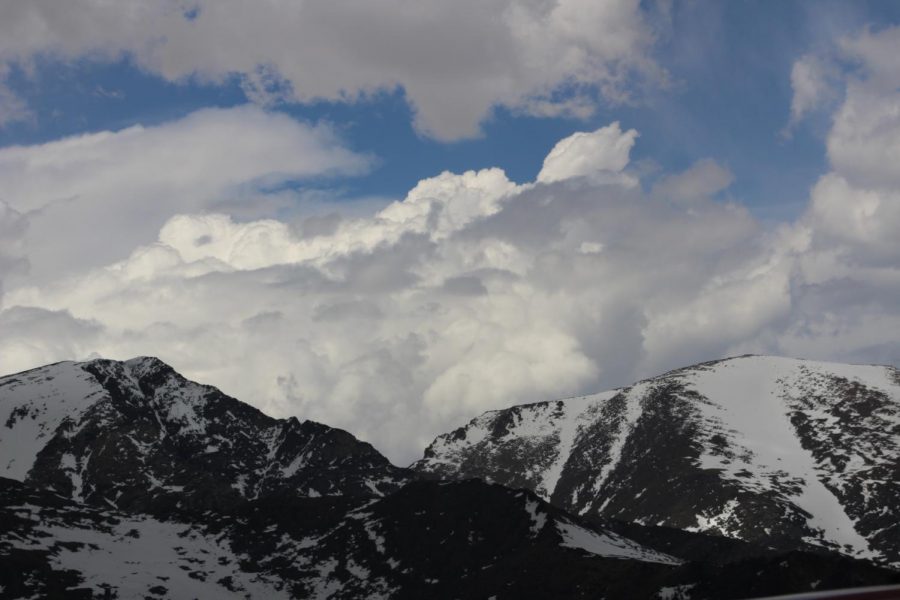 "Elements"—a cloudy sky reigns over two snowy peaks of the Rocky Mountains.
Personally, I find landscape photos very interesting, so naturally I decided to take one. The raw power and beauty of nature captivates me—the clouds are even bigger than these peaks. Anyway, one of the rules of photography is "One-Third Sky," which sounds exactly like it is. If you split your photo into thirds, only one third should show sky. Not any more. I decided to twist this rule, leaving me with one third mountains and two thirds sky because of the amazing clouds. Now the clouds are accented, and I'm happy with how this photo turned out.
"The First Snow (for the Cat, Yes)"—Koda, a year-old black cat, stares wide-eyed as she finds herself surrounded by snow on the deck.
It was simply hilarious. Koda's wide-eyed look shows her panic and confusion; the funny stare just had to be a photo. In addition, though, I wanted to show just much trouble she was in (since she does not like snow). Having her and the table off-center did just that—by moving them over, I was able to show the extent of the snow. Which makes Koda's face even better.