Orchestras Perform with CU Doctoral Student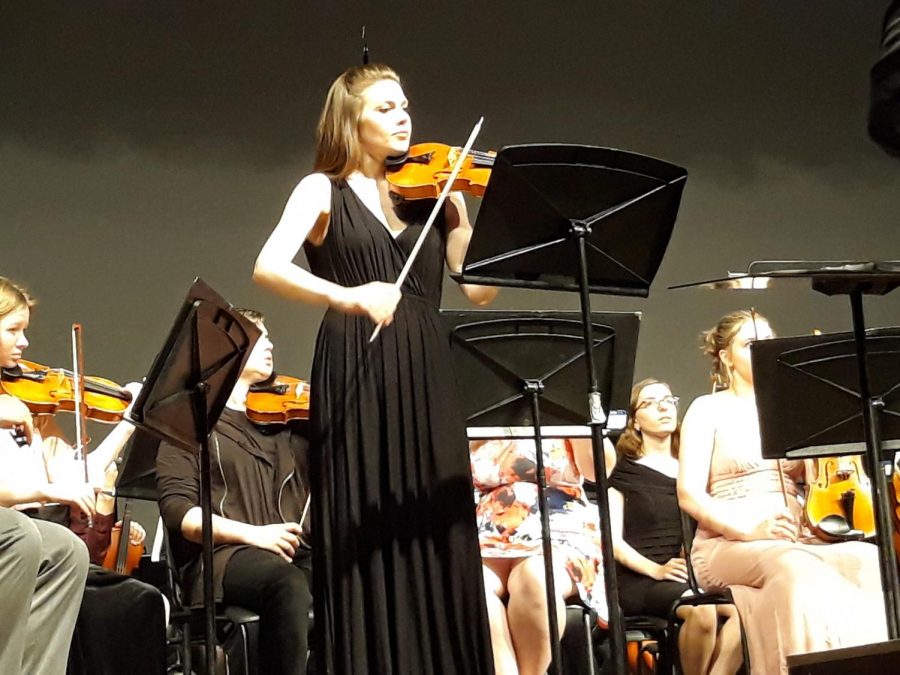 On Thursday night, the 25th of April, both Concert and Symphonic Orchestras held their last concert of the year. But this past concert was extra special because the orchestras got to perform with Caitlyn Stokes, a doctoral student from CU Boulder. This was organized through the Midori Orchestra Residencies Program, which gives high school students a chance to perform with professionals.
The orchestras performed "Cireco's Dream" with Stokes, which was commissioned by a collaboration between Colorado high schools, the Greater Boulder Youth Orchestra, and Boulder Philharmonic. The piece is about a Roman politician having a dream about heaven, the song being named after him.  
"Cicero's Dream is particularly unique because of the sound world it creates," says Stokes. "The violin part is challenging in that there are many large leaps in the melody and I am often playing very high on the instrument." In the piece, she played a leading solo on her violin.
"Cicero's Dream" is different from the pieces the orchestras usually perform. Most of the songs performed are written by famous composers, such as Mozart, who are dead—this piece was written by Daniel Kellogg, an composer who lives today. That said, because of the song was written so recently, there are no recordings of this song that the orchestras can listen to while practicing, providing a challenge.
The piece also introduced techniques not often found in the classical pieces students are used to.
Stokes agrees with the uniqueness of the piece. "Performing works by living composers gives us the unique experience to interact with the composer. We don't get to do that with Beethoven and Mozart. I also feel this work introduces some interesting techniques that many standard pieces lack."
For example, glissando. Glissando is where one pitch slides to another pitch in a single note.
"Because this piece is very atmospheric, it requires that the orchestra really understands and listens to each other's parts. That skill is so valuable as a musician."
The Midori Orchestra Residencies Program is a program where the famous violinist, Midori Goto, performs with other orchestras at a concert as a special guest. The project has been further extended to feature other professionals, such as Caitlyn Stokes, to perform with high school orchestras. Legacy got the honor of being one of these high schools.
Besides "Cicero's Dream," Concert Orchestra performed "The Idylls of the Pegasus" by Richard Meyer while Symphonic Orchestra played "Symphony No. 2" by Gustav Mahler, which was first performed in 1829. Together, the orchestras performed with winds and percussion for "Finlandia" and "Pines of Rome."
Stokes is glad that she can be a part of this wonderful program. "I think my main take away from this experience is how powerful the bonds of music are," she says. "I had never met Dr. Ebert or worked with his students before, but this piece has brought us together for a really inspiring collaboration. I am really grateful to everyone who has been involved in making this concert possible."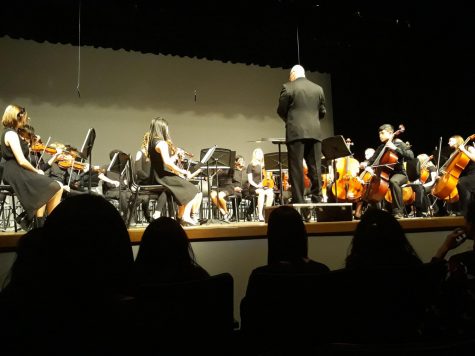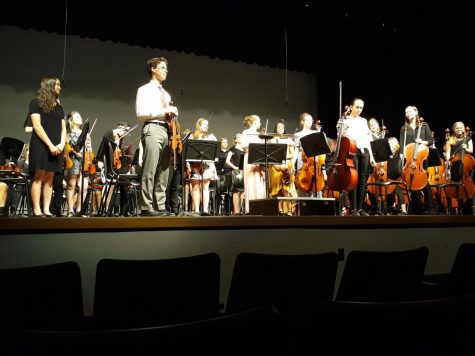 About the Contributor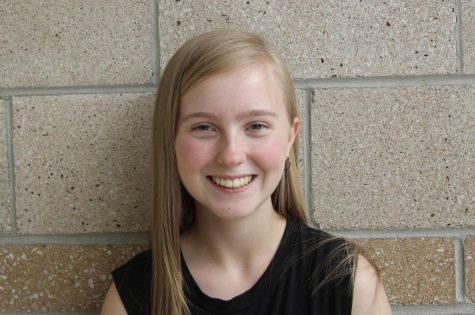 Anna Hartwick, President
Anna is the President and creator of the Lightning Letter. Mostly, she enjoys interviewing people, reporting on events, and sharing random facts with people....