All Bands Concert
Marching band season has ended, but there is still plenty of action going on in our bands. Students of all grades came together to perform for us, and they sure put on a show. On Thursday, February 21st at 6:30 pm, Legacy's Jazz, Concert, and Symphonic bands played the first concert of their winter series.
The night started upbeat with three songs from Jazz Band. The songs had a feel-good attitude and were an excellent way to start the night! The soloists were no joke as well (listed below)! You could see the thought and passion that went into these performances.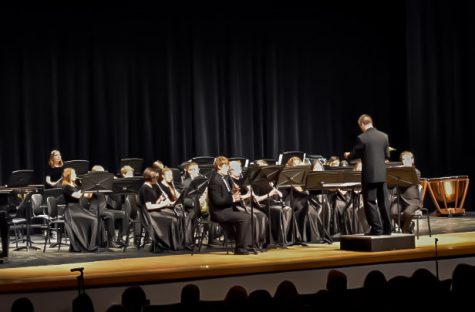 Next, we saw the Concert Band with a wide range of pieces. They opened with a spirited march that led to a beautiful slow piece and an energetic finish. We're thrilled to hear them again at the next concert and see how they've progressed.
Finally, Symphonic Band ended the night with a very cheerful, yet soulful three-part composition, and an exuberant piece from Randall Standridge. The soloists executed their parts wonderfully, and the band as a whole sounded splendid.
It's no shock that Legacy's bands gave an astonishing performance since they've got hours and hours of experience under their belt. They start practicing the week after Winter Break.
"…we rehearse every day," remarks sophomore Jeremy Le Grand, a percussionist from Concert Band, "there's a lot of effort. If you're not practicing at home, you're really not going to be able to have a good show."
But hard work isn't all these students put into concerts. It takes a lot to pull off a good piece, but one thing they need is emotion. Luckily for us, Legacy's Bands have got it!
Legacy's music teacher, Clay Stansberry, commented on the effect of our bands, "I want the audience to be able to leave their worries and cares behind and experience the music with the student musicians.  I want the performance to move them and hope that they find joy in our performance."
It wasn't always this way, points out Le Grand, "When Legacy opened, you can check the records, even the Marching Band wasn't doing good. They were not making it to finals, and they weren't under the direction of Mr. Stansberry, but once [he] came, he clearly knew what he was doing because Legacy started winning award after award."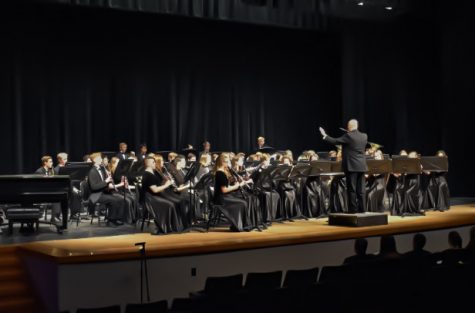 High praise for Mr. Stansberry indeed. He returned the favor by expressing that "I find pride in the student's performance, that they started working on this music only a few weeks ago and then are able to perform it at the best of their ability."
So congratulate Legacy's Band members on a job well-done! They deserve it, and we hope to see you at the next concert!
Songs and Soloists:
Jazz Band
"Listen" by Neil Slater……

Soloists: Dan Potenza, Drum Set; Cian Krueger, Alto Sax; Dawson Muth, Bari Sax; Ben Haisley, Piano; and Nathan Cornejo, Guitar.

"Body and Soul" by Johnny Green……

Soloist: Dawson Muth, Bari Sax
"Get in Line" by Gordon Goodwin

……

Soloists: Charlotte Bauer, Trumpet; Matt Thompson, Bass Trombone; Leo Nguyen, Alto Sax; Nathan Cornejo, Guitar, and Kane Pascarelli, Drum Set
Concert Band
"Ballymore Down" by Carl Strommen

"Baroco" by Robert van Beringen

"Snarl" by John Mackney
Symphonic Band
"Three Ayres from Gloucester" by Hugh M. Stuart……

Soloists: Annaka Christensen, Flute; Mellina Muth, Clarinet; Collin Smith, Trumpet; and Kensey Laird, French Horn

"Celebration Tribalesque"