Girls Varsity Takes Tough Loss
Legacy loses to the Horizon Hawks on Thursday, but will still make the playoffs.
On Valentine's Day, Girls Varsity Basketball played their final league game of the season at Horizon High School. While they did lose 56 to 23, the team is ranked in 4th place of the 5A Front Range League—they will still make the playoffs. This season's record was 9-3 (9 wins with 3 losses), but that wouldn't be possible without the work these girls put into their sport, the challenges they have overcome, and teamwork.
First of all, these girls play basketball. A lot.
"We have summer practices," said senior Sarah Liversedge. "We also have practice Monday through Saturday and games almost two times a week, which means a lot of our time is going into basketball."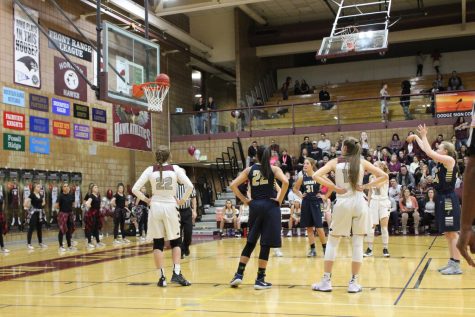 The girls played 23 games this season, some league games while others were not. Their games are usually on Tuesdays and Fridays, totalling up to an unofficial 12 wins and 11 loses (including pre-season and non-league games).
"I, as well as the other members of my team, work extremely hard to play for the Legacy Basketball Team. The hard work is paid off with every great win," Logan Taylor adds, a senior who plays center.
One of the biggest challenges they had this season was teamwork. In the pre-season, they lost more than half of their games, including all of their pre-season tournament games. The year was not looking good for the team.
"At the start of our season," Coach Dommonique Campbell says, "the Girls Basketball Varsity team was working to build their foundation and identity. The pre-season really challenged them as the opponents they faced were top teams in their own leagues and in the state."
In the pre-season, including non-league tournament games, the team won 3 games out of 11. They lost to teams like Brighton, who would end up having a worse record than them at 6-4, and better teams like Doherty (10-2). Their longest streak was losing four games in a row.
But once the official season hit, the girls broke the trend. They started the season with winning their first five games, back to back, before their first lost to Dakota Ridge. They lost only by four points.
"Our biggest challenge that we have faced is just playing as a team," Logan added. "But this problem was easily fixed within the first few weeks of the pre-season."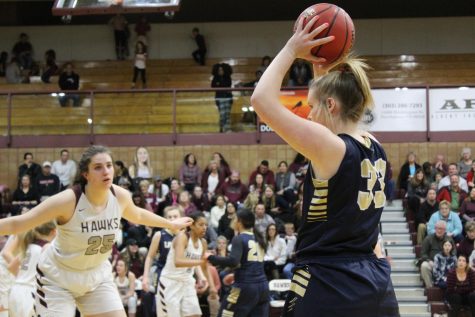 There has been other challenges along the way. For example, this is Coach Campbell's first year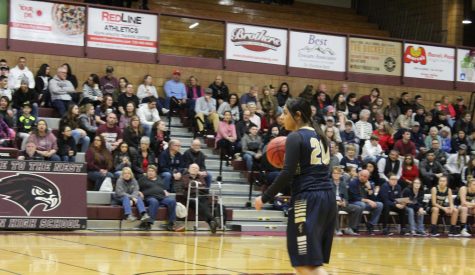 coaching the varsity team and only her second year at Legacy. The six seniors on the team slowly came to understand her as a coach.
There is also the matter of height.
"[A] challenge we face is that we are a relatively smaller team (height wise) than our opponents," says Brittany Baum, a senior who plays center.
For example, the tallest girl on Legacy's Varsity team is 6'0". This past Thursday's opponent, Horizon, has a girl at 6'5". Horizon also has a higher median in girls' height.
These struggles suddenly seem to be catching up to the team. Their loss to Horizon was their worst lost yet with a difference of 33 points. The girls were put under extreme pressure with a tough defense that resulted in many turnovers for the team.
"We have been struggling a little bit the past few games with working together," Sarah admits. However, the team will continue to fight on in the playoffs. "In order to overcome this, we need to make sure we have positive attitudes and know what each person is good at and use that to our advantage."
Some might say that they expected Legacy to lose— Horizon is in 1st place of their league.
The fact remains that Legacy's Varsity Team has won 9 out of 12 games. Despite a rocky pre-season, the girls have managed to come together and climb their way up the league. Their teamwork has become better, and the playoffs will be another chance to improve even more.
Their first playoff game will take place in Castle Rock against the Castle View Sabercats on Tuesday the 19th.
Congratulations to the team for making the playoffs!
Katie Paredes, a freshman on the team, says, "One challenge I faced was being nervous about playing with the older girls, but throughout the season I just got got over it because they showed me that I was part of the team and, more importantly, the family."