Entertainment Review — The Simon Snow Trilogy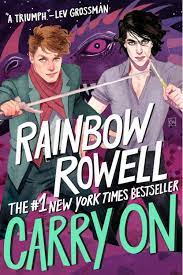 Do you like Harry Potter but don't want to support JK? Boy, do I have the series for you: The Simon Snow trilogy. Written by Rainbow Rowell, a beloved author of other books like Elanor and Park and Fangirl, this trilogy is jam-packed with fun moments. It's a classic coming-of-age teen novel, with the titular character Simon Snow figuring out how to navigate social situations and murderous goblins. As the word trilogy suggests, there are three books in this series: Carry On, Wayward Son, and Any Way the Wind Blows. Every character feels fleshed out and fun to follow. The book does have perspective changes, but they don't come off as forced and can even act as an incentive to continue reading just to get back to that character, at least for me they did. The magic in this universe acts differently than any other system I had read about and it's done in a way that makes it both interesting and fun to read.
At first, I was a bit skeptical. The book was only described to me as, and I quote, "gay Harry Potter". But it hooks you with the magic and makes you stay for the romance. I'd definitely recommend it to any people who are looking for a fun, and sometimes heart-wrenching, novel with magic and drama.