Freshman Winter Festival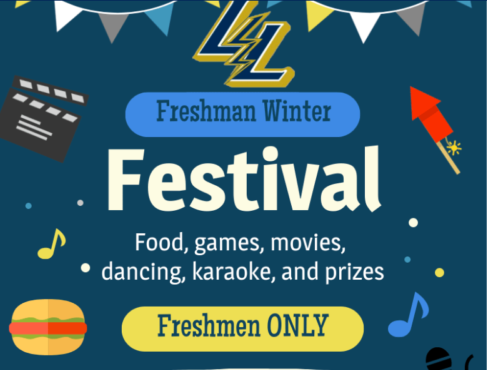 This year at Legacy, our focus is to belong; belonging as learner in your academics, belonging as a friend in your social circles, and belonging as a member of your class. This year, Freshman Class Leadership will foster this sense of belonging in your class through hosting a freshmen only winter festival on January 20th.
On January 20th, Legacy freshmen can ahead back to school during 6:30 PM to 8:30 PM timeframe to enjoy an assortment of food and activities such as board games and karaoke. Freshmen may attend this event through paying five dollars online or ten dollars at the door. This event sounds like a great time, so I decided to investigate it further and discuss it with the Freshman Class Leadership sponsor Jeff Hargis.
What does Freshman Class Leadership do?
Freshman Class Leadership meets every other week to coordinate events with Student Government and represent the freshman class in school-wide and class-specific events like pep rallies and hallway decorating.
What does it mean to be a representative of Freshman Class Leadership? 
Representatives have a final say in how their class is represented and what it means to be a freshman at Legacy — I just do the behind-the-scenes work to make their ideas happen!
Our focus at Legacy this year is to "belong." How does Freshman Class Leadership promote belonging at our school?
Freshmen students are the newest members of our Legacy community, so Freshman Class Leadership has the neat task of figuring out how to create that sense of belonging from ground-zero. They get to help decide how students will perceive what it means to be a student at Legacy for the next four years of high school.
Why should students join?
Students should join class leadership if they want to have a say in what it's like to be a student in that grade level. What makes your class the best? Why should students be excited to be a part of that class?
Tell me more about your upcoming event. What is the Freshman Winter Festival?
Going off of the other things I said, this is really what Freshman Class Leadership is about. This year's leaders recognized the lack of events specific to celebrating their class and have been working throughout the school year to get something set up just for the freshmen. We landed on wrapping up winter week with the Freshman Winter Festival.
What food and entertainment can we expect at this event? 
We will be taking over the Upper D Hall for the evening's events. There will be food (provided by the wonderful Mr. Cox, including mac'n'cheese, ice cream, cookies, pulled pork sliders, and lemonade), movies and popcorn, karaoke, tournaments with Class of 2026 swag and candy prizes (Mario Kart, Mario Party, Smash Brothers, cornhole, jumbo jenga, board games), and a photobooth to share out the freshman celebration on social media.
Is there anything else you want to share?
This is the first time to my knowledge the freshman class has held such an event, so we hope it's a huge success and a new annual tradition for the many years of freshmen classes to come!
Wow — Freshman Class Leadership sounds like a great way to get involved in the school and to build some class pride. I owe Mr. Hargis a special thank you for speaking with us about Freshman Class Leadership! If you are a Legacy Freshman, stop on by Legacy after 6:30 PM on January 20th for a great time with your peers!
Remember boltz, you belong at Legacy!