The New International Food Club Has so much in Store for the Food Enthusiasts at Legacy!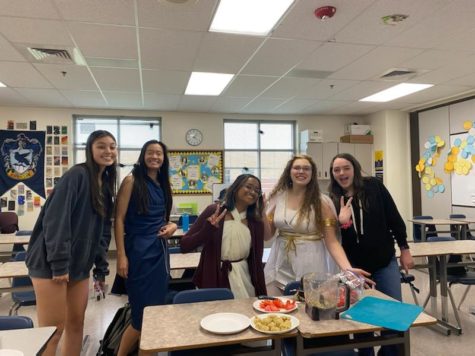 The most recent addition to the clubs and activities at Legacy, the International Food Club was created with the purpose of creating a safe community where students are able to discover a diverse number of cultures and "bring awareness to the many traditions of the kids in our school" as Katya, one of the presidents and founders, pointed out. 
The International Food Club meets every other Friday in D209 and E205 from 3:30 to 4:30 and attempts to incorporate both exciting cooking experiments with new flavors and cultures, making every meeting incredibly unique.
When speaking about the prospects of the club, Katya expressed how Legacy is "an melting pot of culture" and the idea of a food club had sparked when she realized her goal of creating "a shared bond through food". 
During homecoming week, the club paid homage to Legacy day and Greek food by making some delectable falafels. Everyone brought in an array of ingredients from pita breads to chickpeas and even a blender and an air fryer. By the end of meeting, members were sitting together, stuffing pita breads filled with tomatoes and falafels in their faces while watching My Big Fat Greek Wedding. 
On Friday October 21, the club gathered in the culinary room to make mango lassies in celebration of Diwali. An exuberant number of people came together and tested the difference between sugar and honey in the drink, bouncing along to the rhythmic beats of Bollywood music.
Even after only two meetings, Katya believed that the club "would be a success" and hopes that as the year progresses, they can "go on fun and enriching field trips to places like Greek Fest and Christkindlmarket!" So much of a country's history and identity stems from its traditional meals; it is important for schools to allows students to create such a close connection to their culture and other ethnicities through the most amazing of delicacies. From a little taste of Greek Food to Indian Food, it is evident that this club is already beginning to immerse their members into cultures all around the world and is excited to discover new flavors, ethnic practices, and the enriching history behind every food they create!