Dribble, Pass, Shoot: A Legacy Goes On
Before Spring Break on Wednesday, March 20th, Legacy High School's Staff went against Broomfield High School in an intense basketball battle. In the end, our teachers pulled ahead and won 47-44.
The game was held to bring together the two schools, and to compete for their separate charities. Legacy was playing for FRIENDS Of Broomfield, an organization dedicated to helping individuals with specials needs find a safe community beyond high school.
The support for this cause and the game itself was outstanding. Students stood by waving hand clappers to create noise for the teachers participating. Legacy was loud and proud as chants cheered on the team.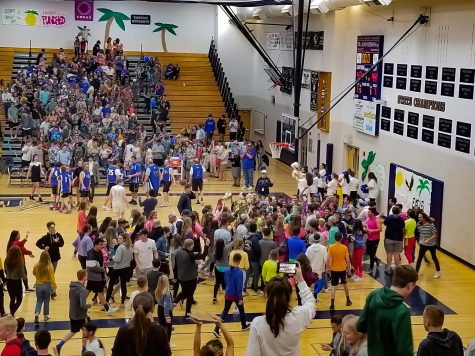 "We actually had a lot of people come," comments Camryn Eck, a senior in Student Government, "They were dressed up in their Jazzercise attire which really hyped up school spirit and really got people wanting to participate."
Sierra Hoover of the Legacy Staff Team described their pregame ritual, "We talked about the charity we were going for and talked about how we wanted to win for them."
And they surely succeeded at that. While the first three quarters of the game were rough for Legacy, the Staff eventually pulled through in the fourth quarter, landing a well-deserved win after a long night of injuries and losses.
While the fundraiser may be over, it's never too late to get involved in your community. Check out the FRIENDS of Broomfield website here and find out how you can help. Spring Break may be over, but Summer Break is just around the corner. Get out there Legacy!