A Happily Ever After for Legacy
Bravo Legacy! On Friday and Saturday of last week, the Thespians performed "Once Upon a Mattress" for the school. The musical included some exceptional songs that lingered in your head hours after the event. The scenes looked astonishing, and the costumes were spectacular, another hit for our school.
The musical is based on the classic "Princess and the Pea" fable, in which a princess is tested for royalty through sensitivity by sleeping on many mattresses placed over a pea. No one in the kingdom can marry until Prince Dauntless is wed, prompting Sir Henry to search for a princess so that he may marry his love, Lady Larken.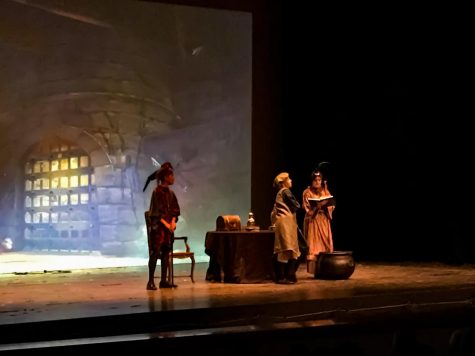 Princess Winnifred is nothing like the people think a princess should be and must work to prove herself to the kingdom by passing the test for sensitivity.
Thespians Club has been working since the end of Christmas break to bring the final show to life, and it paid off. Since then, the cast and chorus have had to memorize lines, dances, etc., while the crew had worked on sets, learned scenes, and much more.
With such a daunting task, it's an incredible feat that the cast and crew pulled off every scene. But they were chosen for a reason. The casting process involves students memorizing a short song and monologue, as well as preparing for the group dance audition.
"Every person isn't for every character," commented Mrs. Karen Stacks, "Sometimes you can be extremely prepared, but your voice isn't right for the part, you're too tall/short, wrong hair color, etc."
Casting is a significant element to the success of a show. "It's a lot of work," says sophomore Brianna Gress, Lady Larken in the production, "You do it yourself, and you can have your own piece ready and your own part perfect."
"If everyone doesn't work together as a whole, if you're not a team, and you don't put in the work, and work together and love one another, then it's going to fall flat."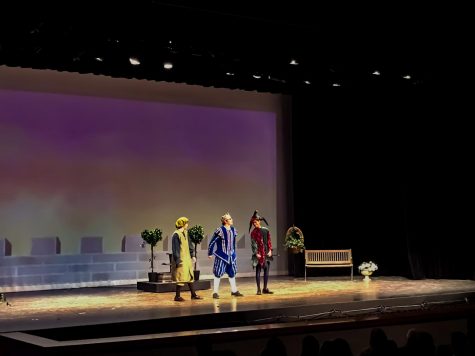 The crew was also diligently working on preparation for the musical months prior to the show nights. Behind the scenes, the crew was dancing along to the music and supporting their friends.
When the lights go down, an organized yet complex plan commences, and students run props needed for the next scene out onto the stage. This goes on for nearly 2 hours but immerses the audience into the world.
The night overall was outstanding. The singing was excellent, the music was elegant, and the story was enjoyable. This is a magnificent way to spend a night with some friends and share a few laughs. So put next year's performance on your calendar!
All of our fellow students who had a part in this magical performance deserve Legacy's praise. They worked hard to give us a night that we will surely remember!