Winter Sports
As the Winter sport high school season becomes almost over, the time is getting close for athletes to showcase what they've been working hard all season for. Boys and girls basketball, girls swimming and diving, and wrestling are all winter sports that we all celebrated Friday 1/18 at the pep assembly.
In addition, the CHSAA State Spirit competition took place December 7th and 8th where our very own varsity poms placed 4th in the state to make finals, which is a very impressive accomplishment!
Boys varsity basketball has an overall 8-14 record and 5-6 league record so far but they also still have a league game against Horizon on February 14th.
Senior basketball player Jack Olson said, "the highlight of our season was definitely beating our rival Mountain Range by 36 points. We had a ton of fun, and it was the best we've played all year!"
"We are really looking forward to our Broomfield and Horizon games those are always very fun and the fans are always great at those games!"
Girls swimming and diving has a dual meet record of 5-0 making them undefeated! They have been working towards the Front Range League Championships which took place over the weekend and they took 2nd place. They also took 13th place at CHSAA 5A State Championships. Some stand out swimmers from State included Indigo Armon, Sydney Bales, Shannon Feran, and Sophia Romero who placed top 20 in their individual events!
One of the four swim captains, Peyton Tran, said that she is most looking forward to "celebrating four years of accomplishments with my fellow seniors, and seeing everyone together one more time at the banquet. I've loved being a captain and knowing everyone's names, which makes this year super special."
Behind the scenes of these accomplishments are almost two hour practices five days a week, eight hour long invites on Saturdays, and team events over break.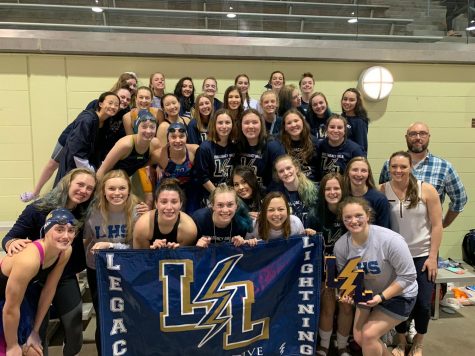 The Legacy dive team is fairly small this year, but they have also been working hard to improve and show off their skills at the end of the season Front Range League Championships.
One of two dive captains, Taylor Wrabetz says that the highlight of their season so far "is just watching each other get our dives and be able to compete in our meets together."  
"
"Personally, the highlight of my season was when I learned that I would compete in my first 11 dive meet. For the end of the season I'm excited to compete with the girls that I haven't gotten the chance to yet. Also I'm excited to see how our team as a whole will perform at our league Championship meet."
— Taylor Wrabetz
Wrestling just attended the conference tournament at Poudre High School over last weekend. As of February 1st, Legacy is ranked 10th in 5A class and they have the regional tournament coming up February 15th at Legacy. Their end of the season meet will be CHSAA State the weekend of February 21st at the Pepsi Center.
Girls varsity basketball has an overall 12-10 record and a 9-2 league record so far but they also  have a league game left against Horizon on the 14th!
JV team manager Wendy Dawson said that, "The highlight of the season so far was the Varsity Mountain Range game. They may not be Broomfield High School, but they are still mild cross-town rivals. The game was close, with Legacy trailing most of the time. During the second half, Legacy was able to catch up with Mountain Range's lead."
"With seconds left, the teams were tied, and Mountain Range tried to waste the clock before getting one last shot. Legacy made a steal, ran the ball down the court, made a pass, then one of our seniors went up for the layup with one second left, and made it. It was the best feeling, and definitely one of the best games of the season thus far."
The girls basketball team does not have any designated captains, instead their seniors represent the team. One of the seniors, Brittany Baum said, "Being a senior this season is so special because we are accomplishing more and having more fun than we ever have in past years.
"This year is also special because all the girls are so close this year. Being a role model for all the girls this year is a lot of fun."
Junior Abbie Robinson also explained, "We are looking forward to playing our rivals and hopefully winning the last few games we have."
Be sure to congratulate those in winter sports because they have had an amazing season!