How to Survive Comic Con (and Other Cons)
Hang on for a minute...we're trying to find some more stories you might like.
Comic Con, a place where people can come together for liking the same things: TV shows, novels, movies, and comics. A safe space for nerds and geeks to dress as their favorite characters without being judged.
Comic Con can be super fun, but there are definitely some things people need to know before going. I, myself, have only gone to Comic Con one year (two if you count this year), but even though I have only gone once I have picked up a few minor tips.
They don't tell you this or have signs for it anywhere, so it can be kind of confusing if this is your first time going. If you purchased your ticket online, the pass on your phone or the one you print out is not actually your ticket. When you get to the Denver Convention center you have to go to the check-in office, scan the pass on your phone, and actually get a lanyard printed at the physical location.

You DO NOT have to buy everything at Comic Con. They let you leave and come back. The food can be kind of expensive, so if you don't want to spend much money, go off the property and go buy food somewhere else, eat, then come back. But make sure to leave time to get back if there's a panel or a workshop you want to go to!

Drink water! Some of the areas of Comic Con are very noisy, and can cause headaches. I don't really remember what their policy is about bringing in water, but bring a bottle to fill, or money to buy a drink.

If you're planning to buy something from one of the booths look around at other stands first. The item you're looking to buy might be cheaper at a different stand. Though, some items can only be found at an individual stand. If the item you're looking to buy is something made in bulk, then it will definitely be cheaper at another stand, but if they are handmade/unique items and they don't have more than one ask them to put it on hold and come back to buy it later, just in case you find something else you want to buy.

Bring cash, not every stand accepts credit cards. Make sure you have a variety of bills.

Keep a budget. Make a limit of how much you're willing to spend. Buy the things you can't find anywhere else first, then go back to the stands with your favorite POP figures and giant items you don't want to carry around.

Bring a bag to carry things in. If you buy something it might be kinda hard to carry it around all day, especially without a bag. If the item you're looking to buy is big, plan to buy it later in the day, or right before you leave, otherwise you'll have to carry throughout the building all day.

Wear comfy shoes. There are places to sit, but not all of them are comfortable (most of them are on the floor). Comic Con is a huge area, and if you don't wear something comfortable you will probably be pretty sore. If you're going to panels those seats are pretty comfy, but I don't think they'll let you sit there when there is no panel going on.

Expect lines. Denver Comic Con might be fairly small, but Colorado has a lot of people that go to Comic Con, which means there will definitely be lines.

Plan your day. If you download

The Official Denver Comic Con

app it'll tell you what panels and workshops are going on and where they are. Go through and favorite the things you want to go to first, but leave enough time to get to each one. With that said…

Plan to get to panels and workshops early. I showed up to a panel on time (according to the Comic Con app) and they told me I couldn't go in since they already started. The door was still open so we went in anyway, but don't do that, just get there early.

If you're going to cosplay, plan it out early. This is the second year in a row I didn't start my cosplay early and I stayed up till 12 the night before making my outfit. We went into our local Hot Topic looking for the final piece for my Ariel cosplay and they said they only had the thing I was looking for around Halloween. I'm not saying you have to plan your cosplay that far in advance, but if you're thinking of doing a cosplay with things you can't find in/around your house, buy it early.

Along with Cosplay comes the problem of weapons. Some characters come with their own battle supplies. At Denver Comic Con you're allowed to take in some weapons as long as it is obvious they're fake and are approved by the security guards who put a tag on it before you go in.

Comic con is a great way to see some of your favorite characters/artists, but it can be expensive to see them all. I was going through the people I wanted to see and autographs were $50+ and pictures were another $50+. If you're only going to see your favorite people, don't plan on getting an autograph or a good photo. And if you are going to get a photo save a lot of money! (Or just take it from far away).

Bring a backup-battery. If you're like me, you take a lot of photos and your phone will get drained quick! If you don't have a backup-battery, bring a regular charger, but it might be kinda hard to find an outlet.

Stay clean. Bring some hand sanitizer and wash your hands often. If you walked around and touched different items you wanted to buy, chances are other people did the exact same thing.

Be courteous. Everyone at Con is there for the same thing: to have fun and be accepted. Though you might see a cosplay you really want to take a picture with/of, it's better to ask first. They probably spent a long time on their cosplay, and probably get asked for a lot of pictures, so don't be offended if they seem kind of annoyed.

Most importantly, have FUN! There are a lot of things that I listed, but it's just like living a normal life inside a building with a bunch of people you've never met but wish you could! Just remember to stay hydrated, stay comfy, stay charged (both your phone and you), and stay clean!
About the Writer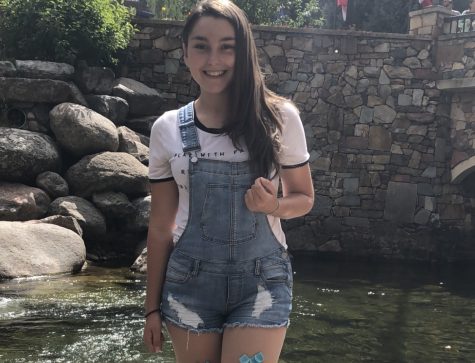 Alexis Fierstein, Opinion Editor
She's a Junior at Legacy and loves math, art, and writing. Lexi spends her summer in Florida and her winter skiing in Colorado. She is obsessed with Disney,...