Thescon 2021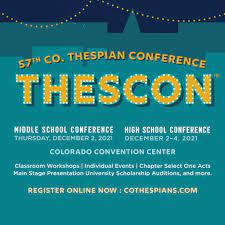 What is Thescon? The thespian conference or thescon is a theater convention that was created to promote and strengthen theatre arts in education through the invigorating theatrical experiences of students and teachers.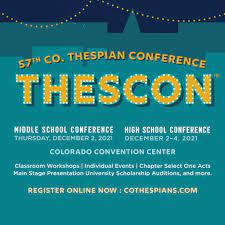 Here is my experience of the exhilarating event. 
Thursday, Dec 2nd, 2021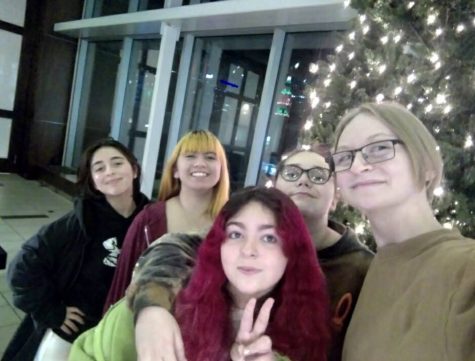 We started the school day like every other. We were able to go to the 1st through 5th period. At the beginning of 6th period, we reported to the choir room, got into our rooming groups with our chaperones. I roomed with Brodie Ratzlaff (Freshman), Penelope De Leon (Sophomore), Max Bales (Sophomore), and Jazzlynn Ruybal (Freshman). 
(Right to left: Jazzlynn Ruybal, Serena Ruybal, Penelope De Leon, Brodie Ratzlaff, Max Bales) 
We then boarded the bus. This part of the trip was a little disorganized as we all had to fit our luggage, 45 students, and 6 chaperones on this bus but we did this work. It was a short drive down to downtown. When we got off of the bus we headed to the Embassy Suites by Hilton to unpack. There wasn't a lot of time to fully unpack before we had to mead over to the convention center for the 1st  and 2nd sessions. 
For the 1st session, my group watched an improv group. We learned about how you keep the scene going and how many different ideas can all come together to create an entertaining and random story. 
For the 2nd session, we watched individual events judged by Andrea Forsythe and Amy Long. There were about six performances, each of them was creative and musically beautiful. Our own Byrce Neeley (Senior) performed his rendition of Signing in the Rain from Mary Poppins. His performance was engaging and had my attention the whole time. He used the choreography from the show and stuck the landing, it was exceptional. 
Friendships forming 
After the sessions we headed back to the hotel for some downtime and dinner, we ordered in Chick-fil-a and got to know each other. While my sister (Jazzlynn Ruybal) knew our roommates I had never met them. We quickly bonded and became friends. Over the next few days, we became closer and got to know each other on a deeper level. Even though I am a senior and everyone else were Sophomores and Freshman we could still connect and vibe together well.
Opening Ceremony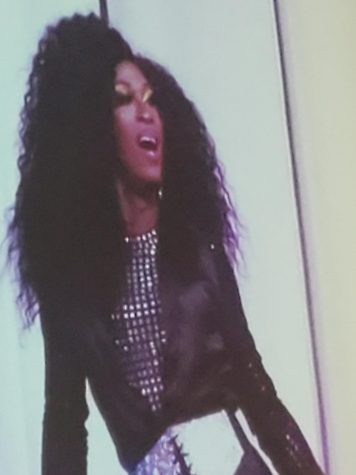 The opening ceremony started. When we got there it was like a concert or a dance party. Everyone was out of their seat on their feet clapping, dancing, singing along to the music. You could tell that we all were excited to be there and ready to get it started. Tami LoSasso (Chapter Director) welcomed us and informed us of how the next few days we're gonna work. We were also informed that during thescon they would be collecting money to give to Share the Dream, Which is an acting organization for people of all mental and physical disabilities. 
After getting through all the rules Zarah Misdemeanor (@heymisszarah (Instagram)), a drag queen, came out and performed for us.
  Miss. Zarah taught us to never give up on being ourselves, "Just be you, then be you, then be you some more." She preached about equality among black LGBTQ members and got all of our support. We then got a lesson on how to slay a ballad through the ways of Selene Deon. 
After Zarah's lovely performance we got the pleasure of watching Freaky Friday performed by Grandview high school. It was a sweet and moving portrayal, I had the songs stuck in my head for days to come. 
Friday, December 3rd, 2021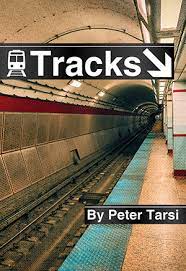 Session 3 started at 8:30 sharp so we had to be up and ready by then. We all gathered in the lobby and enjoyed our breakfast provided by the hotel. We headed over to the convention center and joined in on the class, "Voices of the stage". We warmed up with exercises, learning where the sound comes from in your body when you say certain words. This helped us learn where to place our annunciation when performing. 
In session 4 we supported our thespian troupe #7654 from here at legacy by watching the performance of Tracks the one-act. 
"Tracks" is about what happens after you are dead. The characters all wait for a subway train to take them either up or down. While waiting the characters try to determine where they are going based on each other. While we don't get to know which way the train does end taking them we do know they have all come to peace with the decision either way. The one-act was beautifully played and was engaging the whole time, our troop did wonderfully. 
For session 5 my group participated in the workshop of, "Industry Hip Hop on Broadway" taught by Santana Trujilio. Trujillo taught us the last 30 seconds for choreography for "My Shot" from Hamilton. While we only learned 30 seconds of the rutione it took us the full hour to learn. This class was quick paced and engaging, we were all up and dancing and laughing with each other.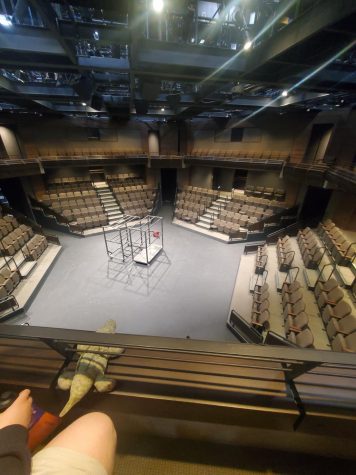 Session 6 my group caught our breath and chilled out waiting for the Denver Center Backstage Tour. The Tour took us all around the different theaters in town. We learned about how the different shapes do different things to the sound and how they used that to their advantage. One particular was the Seawell Ballroom theater. 
This theater has a hexagon shape which allows the sound to hit the corners and project so all audience members get the same amount of noise. We also learned about how theaters create their props. In the workshop we learned how life-like props are created. For example, sometimes food and wood are made of Styrofoam.
Saturday, December 4th, 2021
The last day of convention, this day was a bitter sweet experience. We got up, enjoyed our last breakfast together and headed over to the convention center. My group was late from packing up. So we missed session 8. 
Our last session we took was "Theatre meets Yoga" taught by Lauren Sagendroph. In this course we opted for more meditation lessons. We meditated and she taught us how to relax and calm our nerves before going on to the stage. This was a very peaceful way to end the convention. 
Closing Ceremony 
During the closing ceremony awards for all the different submissions were awarded. We got to see the best of the best individual events and musical performances. There were some really talented people who performed. It was the perfect way to end the convention. We then boarded the bus and got back to the school around 4pm on Saturday 4th.